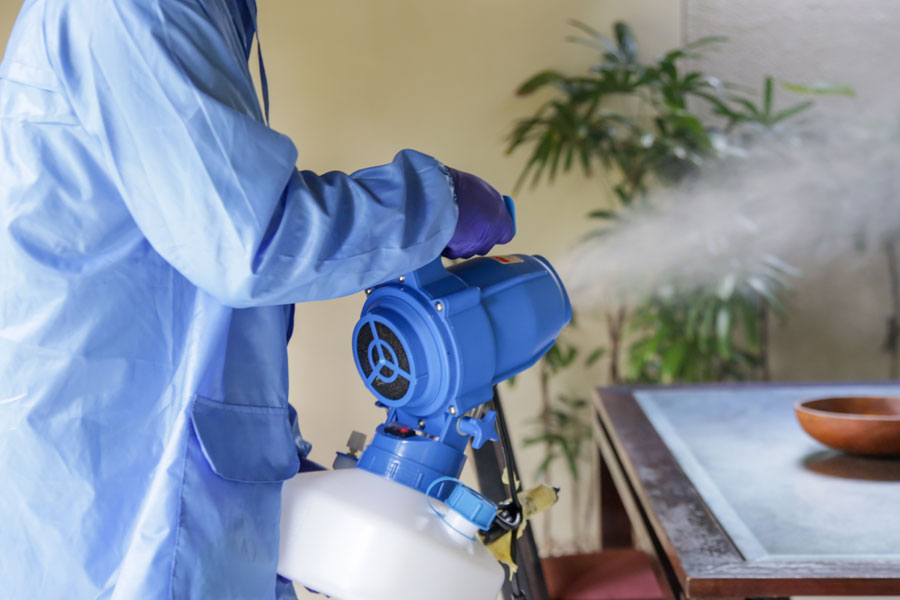 Fogging – Fully Sanitise Your Premises
All surfaces cleaned and disinfected.
100% environmentally friendly and effective against a broad spectrum of viruses.
A safe environment for your staff and visitors.
As part of the programme to stop the spread of COVID-19, and other viruses, frequent high-level cleaning must include basics such as regular handwashing with soap and water to cleaning high traffic areas and contact surfaces.
The simplest way to keep areas clean is washing walls, mopping floors, cleaning desks and workstations, door handles etc. with anti-bacterial or viricidal spray. However, sometimes this is not sufficient and a thorough deep clean is needed, particularly in areas which have been quarantined.
Covid-19 Fogging
Our powerful steam fogging machines are able to sanitise and disinfect vast areas quickly without missing any surfaces. We use a government approved virucidal germicide in our fogging machines. Although very powerful, it is 100% environmentally friendly and effective against a broad spectrum of viruses. When in operation, our fogging machines produce large volumes of fine mist which lands on both hard and soft surfaces without causing any harm. This method ensures that every area of your premises is reached and every surface is properly sanitised. In addition, our fogging process can keep your business disinfected and virus free for up to 7 days.
Fogging is the work of trained specialist team using specialised products and cleaning methods. Fogging uses an antiviral disinfectant solution (to BS EN 14476 standard) which cleans and sanitises large areas of a building quickly and effectively. It can kill off the virus and other biological agents in the air and on surfaces. The task involves spraying a fine mist from a spray gun which is then left to evaporate, usually for 6 hours. The task requires the contactor to wear a chemical suit, gloves and an air fed ventilator and sealed mask etc. Once treated, the area must be sealed off completely for some time afterwards.
The product used is safe on equipment such as printers, computers etc. as the mist is exceptionally fine but effective in penetrating all areas to kill off the virus. However, each site would be assessed at quotation stage to ensure suitability.
The downside to this application, is the 6-hour downtime when a section of the building is not operational – many clients are scheduling for after hours so left overnight or carried out at weekends.
Covid-19 is a new and dangerous virus which we are learning more and more about every day. However, we will always follow the latest government guidance to ensure your business premises are kept clean, sanitised and safe for your staff. If you require more information about our deep cleaning and fogging processes or any of our other cleaning services, please feel free to call us for a chat or get in touch via email.
Tailor made packages to suit your needs – it's worth considering the cost of not decontaminating in the context of the risk to vulnerable service users, the impact of the virus on vulnerable staff groups, wider community spread and reputational damage.
Contact us now for you FREE Fogging quote or any questions and we will come back to you as soon as possible (within office hours).